Main information:
Ehrenburg Palace
History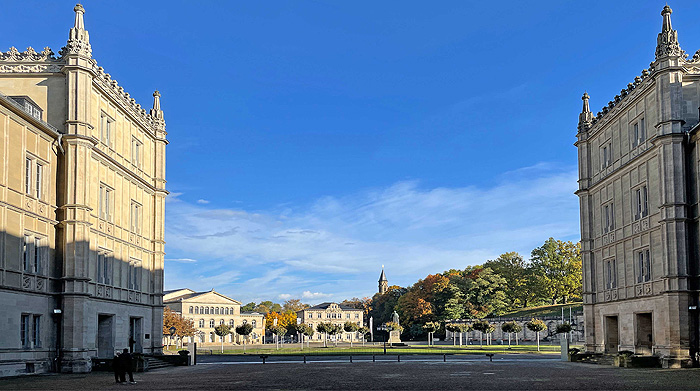 Ehrenburg Palace, the town residence of the Coburg dukes, fronts the Palace Square (Schlossplatz) today as a building in the Neo-Gothic style of the 19th century. Behind the façades, however, is a palace with a 450-year history.
In the 16th century, Duke Johann Ernst (r. 1541-1553) from the Ernestine line of the House of Wettin moved his court from the Veste down into the town. Here he built a three-winged residence in the style of the Renaissance on the site of a Franciscan monastery dissolved during the Reformation.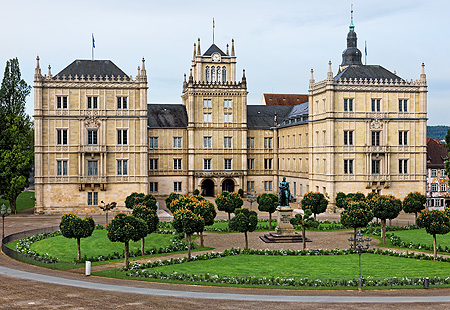 After its completion in 1547, Emperor Karl V is said to have given the palace the name of "Ehrenburg" (castle of honour), because it was built without compulsory labour. Following the turmoil of the Thirty Years' War and a fire, the palace was expanded from 1690 under Duke Albrecht (r. 1680-1699) and transformed into a Baroque residence. The lavish stucco-work by Upper Italian masters in some of the rooms, the Court Church and the magnificent Hall of Giants date from this period.
From 1810 onwards, Ehrenburg Palace was comprehensively rebuilt. Under Duke Ernst I (r. 1806-1844) it acquired its Neo-Gothic appearance, which was based on designs by the young Berlin architect Karl Friedrich Schinkel. This romantically inspired recreation of the world of medieval architecture and art made the palace look more like a castle or an English country house.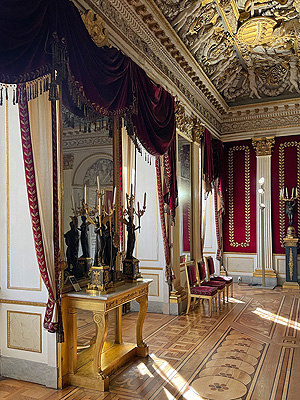 The living quarters and reception rooms, on the other hand, were redesigned between 1816 and 1840 in the Neoclassical and French Empire style from plans by the architect André-Marie Renié-Grétry, who was summoned for the purpose from France, and equipped with luxurious furniture, clocks and chandeliers, most of them from Paris. The multi-coloured parquet flooring in the state rooms and the wood-panelled cabinets are outstanding features from this period.
Items of furniture from the epoch of Historicism give an idea of the style of living at the end of the 19th century, when Queen Victoria of Great Britain and the numerous relatives of the House of Sachsen-Coburg and Gotha stayed at Ehrenburg Palace. The many family portraits in the palace rooms are a reminder of this.