Main information:
Ehrenburg Palace
Court Church (End of the tour)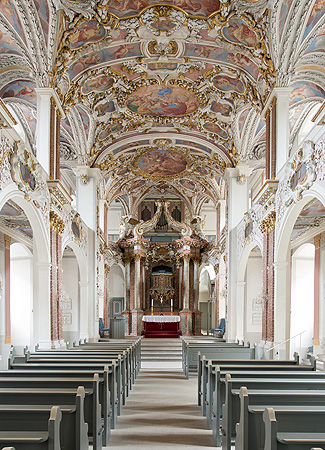 The tour concludes with the Court Church which was begun in 1690 and consecrated in 1738. Two storeys high, this hall church with its galleries takes up the entire length and the full width of Ehrenburg Palace's west wing. Like the Hall of Giants in the floor above, the Baroque-style church is richly decorated with stucco-work and the ceiling is painted with frescoes.
The fact that it is a Protestant church where the main focus is on the preaching of the Gospel is made clear by the swallow's nest pulpit attached to the middle of the stucco marble altar.
The organ is situated above the altar on the same level as the surrounding galleries, and faces the oratory where the ducal family sat for the services.
---